Note : The content in this article is available only for Managers.
As a Manager, you may wish to view your team's goals in a different format that makes it easier for you to conduct reviews and drive performance across your team. With Mesh, you can view your team's goals as a list in the Explore view, as cards in the Card view and as a tree in the Tree view.
Step 1: Once you're on the Mesh homepage, hover over Performance in the top navigation bar. This will open a dropdown from where you need to click on the Goals option. This will open up the "Goals Homepage".

If you're an employee, you'll only see the My Goals option in the left navigation pane. Managers will be able to see both My Goals and My Team while admins can see all the 4 options (My Goals, My Team, My Company and My Department).
Step 2: Click on My Team to view goals that belong to your team. You'll come across 5 tabs on top of the homepage titled,
Explore
Hierarchy
Card
Tree
Insights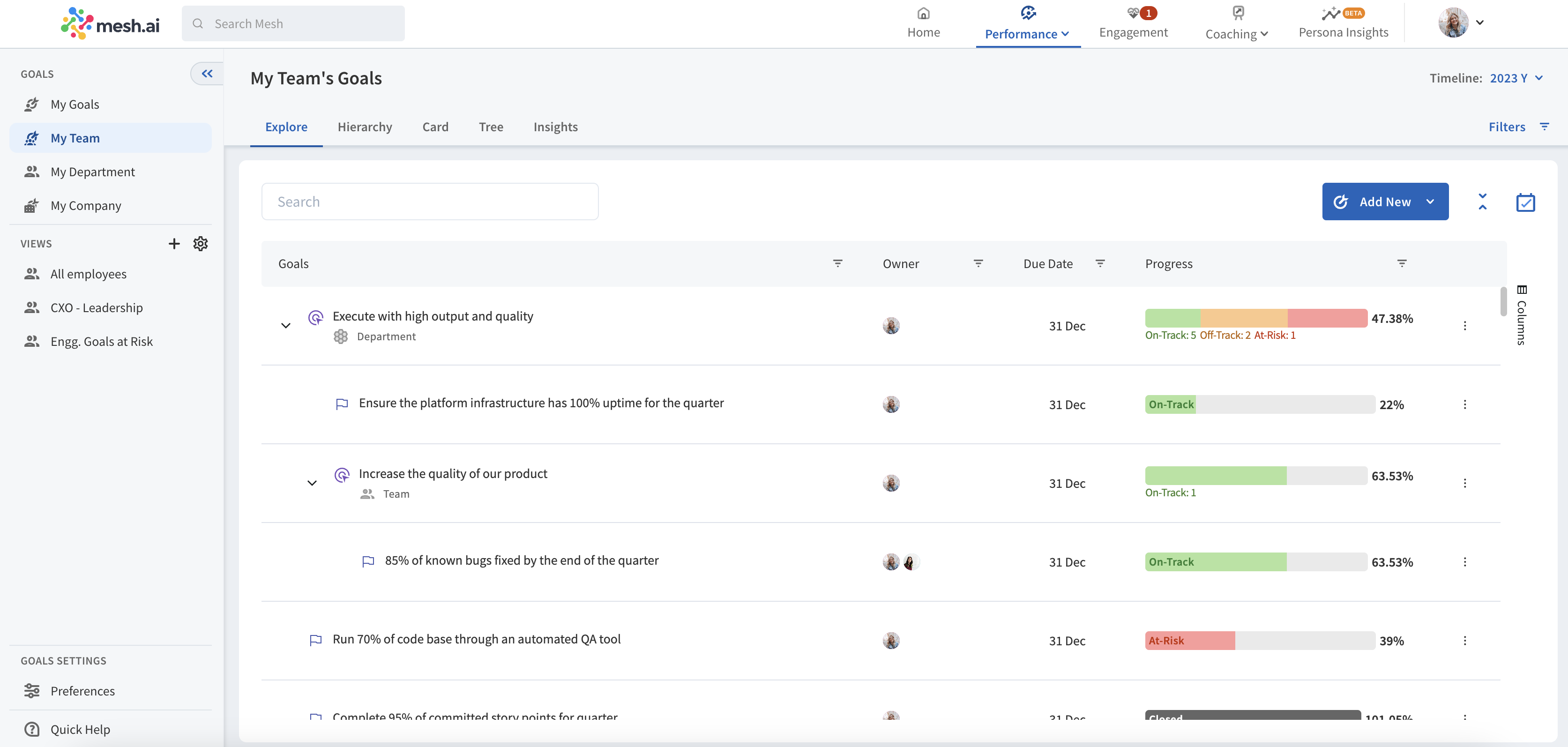 Depending on the time period selected (top right corner), the first four tabs will show different arrangements of how your goals are stacked up and the progress they're seeing while the Insights tab will show you a deeper analysis of your goals.
Let's go over each of them in detail.
Explore Layout
This is part of the screen from where you can look at all the goals, owners of the respective goals as well as their respective progress, all at once.
The Filters present at the top of this section help you zero in on goals that meet a particular requirement. You can filter each column based on the parameters pertaining to that particular column.
For instance, filters for the "Progress" column will allow you to view goals based on their status, so that you can zero in on goals that require your immediate attention by setting the value of the progress filter to "At risk" and "Off track".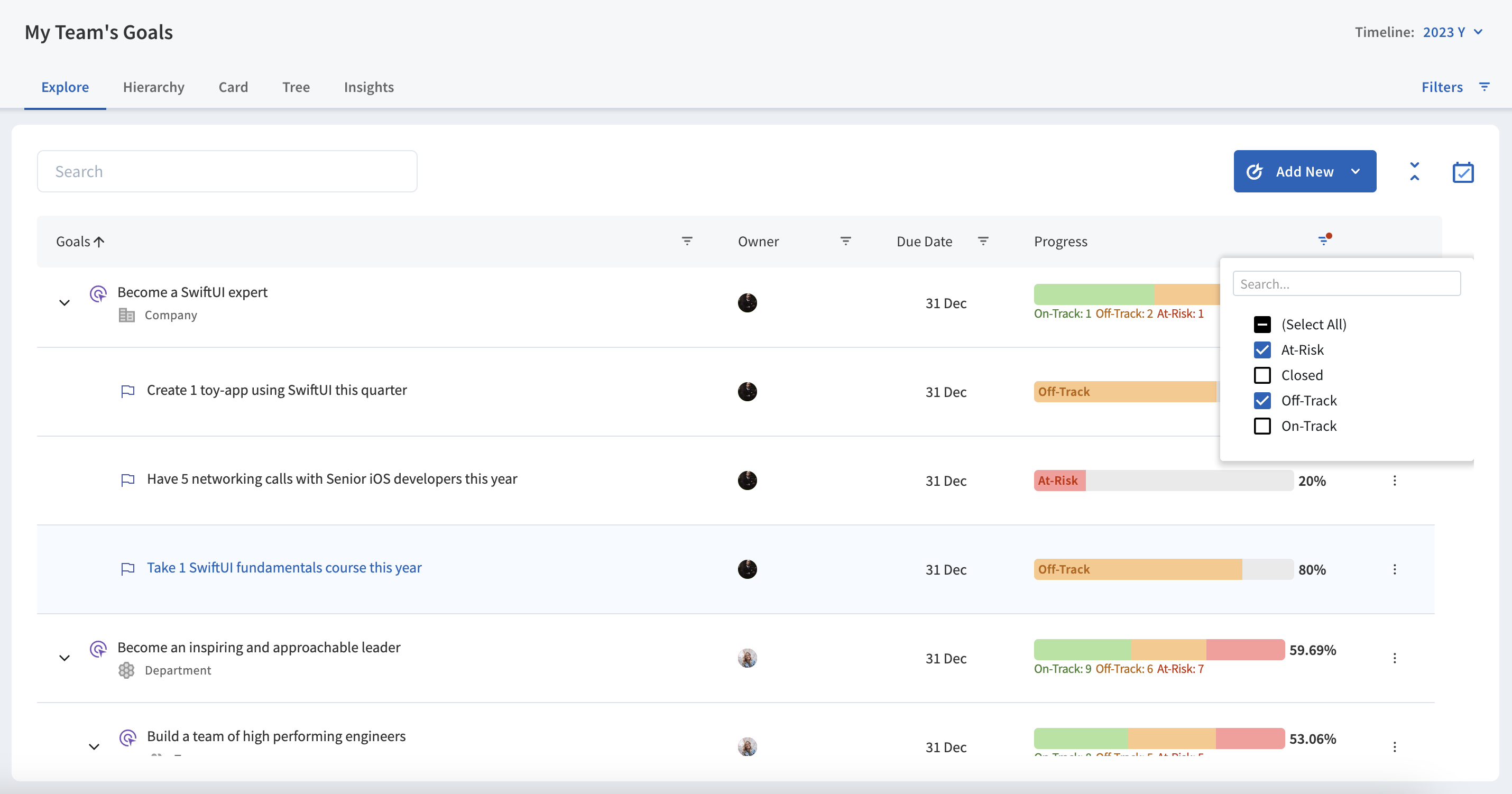 Clicking on any of the goals will open the "Edit Panel" of that goal where you can view details pertaining to the goal and also edit it if required.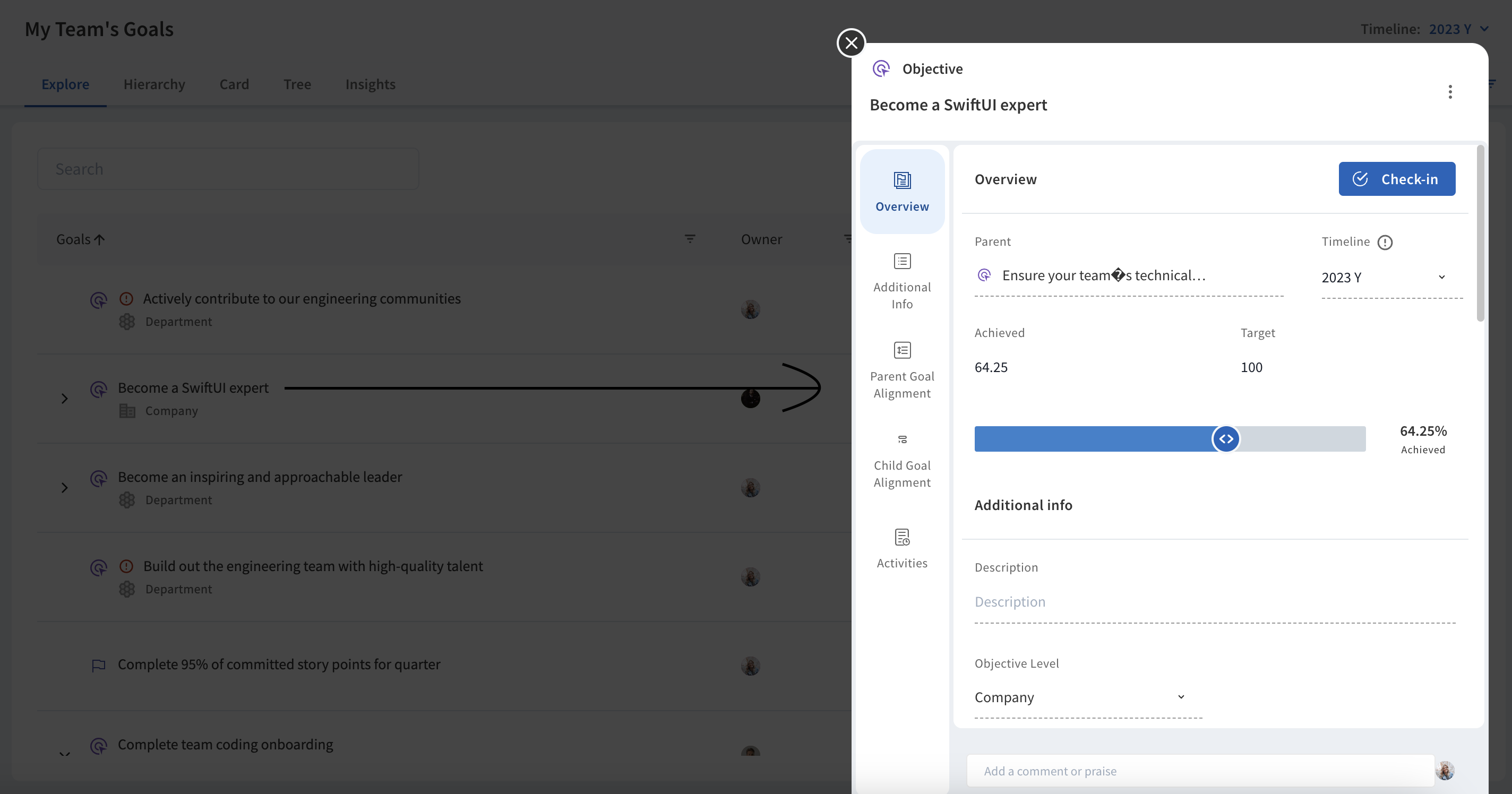 Furthermore, you can click on the side arrows of any of the objectives to expand them and look at the child objectives and key results aligned to them as well as the respective owners and progress for both.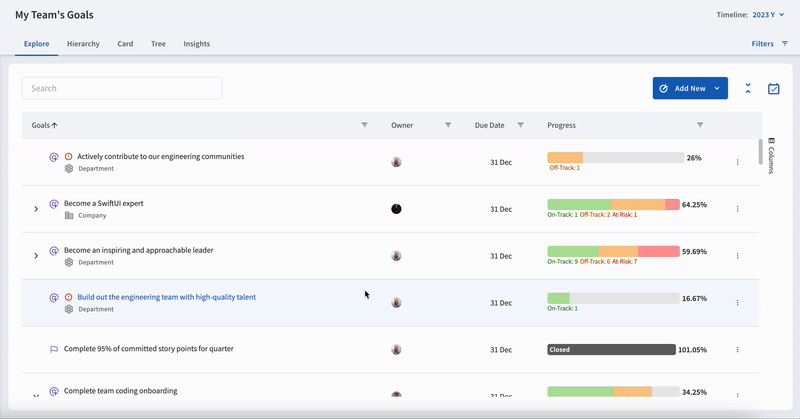 You can also delete a goal by clicking on the Ellipsis button towards the extreme right for a goal and selecting the Delete option.
Hierarchy layout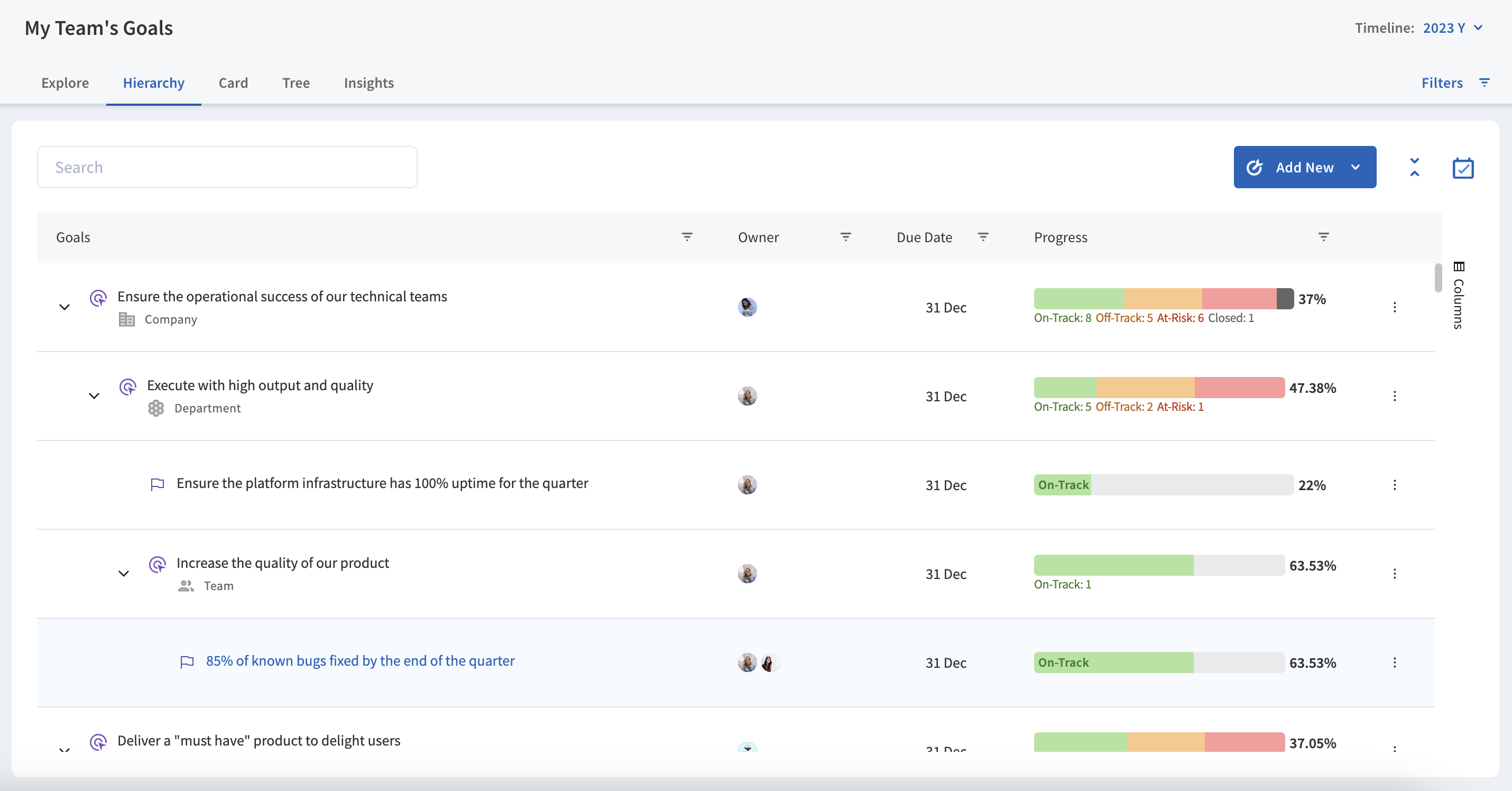 The Hierarchy layout is simply an extension of the Explore layout, where you can also see the hierarchy of the goals that your team members own. For instance, a particular key result owned by your team member may be aligned as a child to a goal owned by a member from a different team. The Hierarchy layout allows you to visualise such a hierarchy to provide better context to the goals being managed by you.
Click on the Hierarchy tab at the top, just below "My Team's Goals", to obtain a hierarchical view of your team's goals.
Card layout
The Card section also lists down all the Objectives but it does so in a card-like format.
To view your goals as cards, click on the Card tab at the top, just below "My Team's Goals".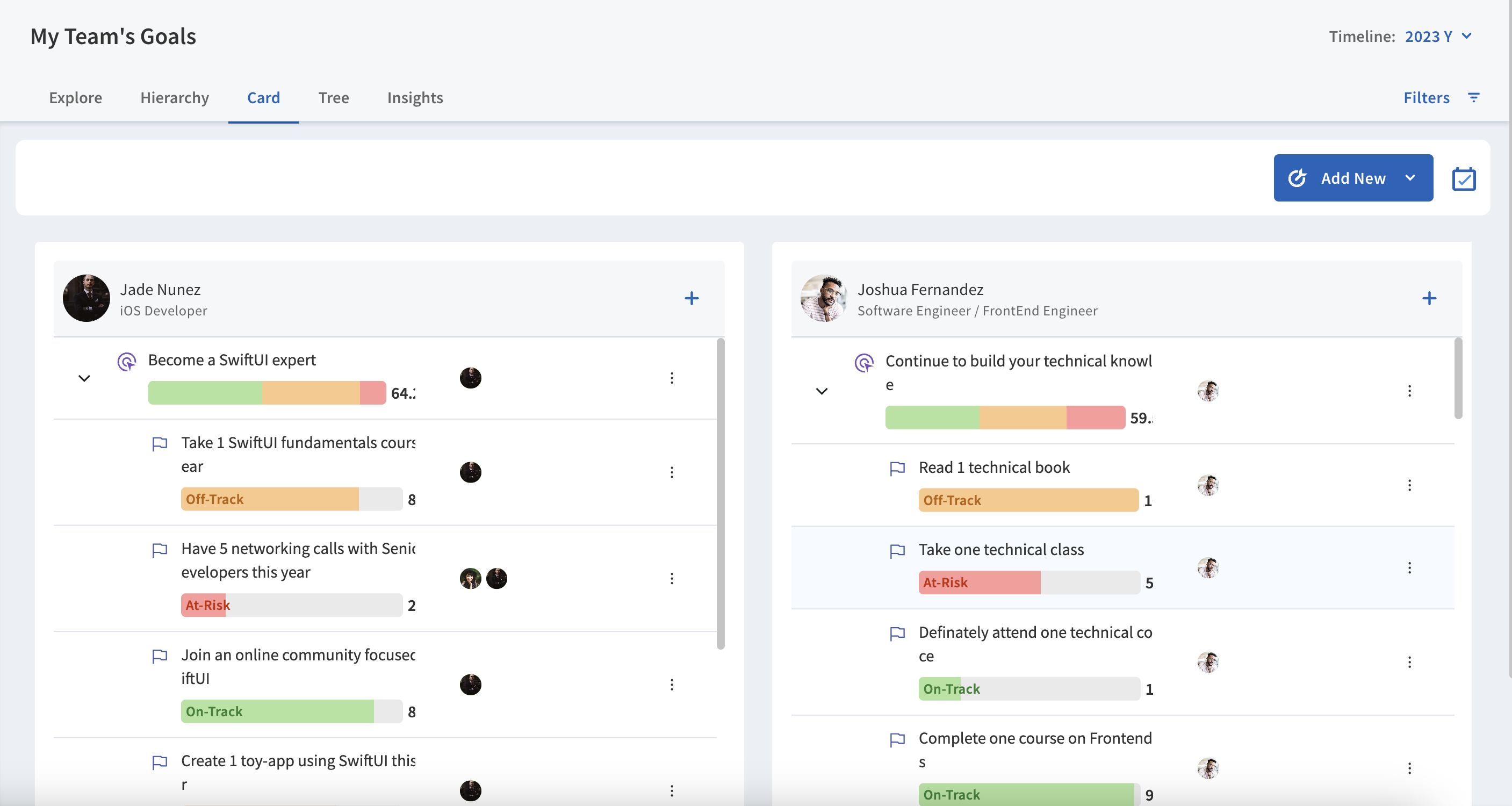 Each card here is dedicated to an employee and lists down only those goals (objectives and key results) that the said employee is an owner of.
You can click on a goal to view its details in the "Edit Panel", and make changes to the goal if required.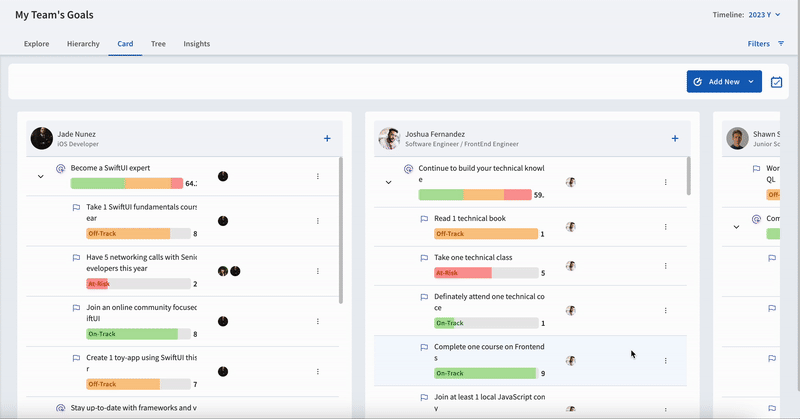 You can also add a key result to be owned by an employee by simply clicking on the + icon which would open the "Add Key Result" screen.
Similarly to other layouts, to delete a particular goal, simply click on the Ellipsis icon and choose Delete.
This is very helpful when, say, you're a manager, and you wish to look at the deliverables and corresponding progress of your team members individually. It also helps you determine the number of goals owned by each employee comparatively, thus helping you plan your sprints better in terms of distributing tasks among your team.
Tree layout
Similar to the above two, the tree section also serves the same purpose; however, it does so in a tree-like format, branching out to show the entire flow of Objectives, down to their very last Key Results. This visual representation makes it super easy for anyone to understand which Key Results have a direct impact on which Objectives.
To view your goals in Tree view:
Step 1: Click on the Tree tab at the top, just below "My Team's Goals".
Go into further detail by clicking on a particular branch of the tree to get a visual representation of the hierarchy of goals of that particular branch.
Step 2: Use the Add Objective or Add Key Result icons to add an objective or key result at that particular level respectively.