Commenting on a goal facilitates effective collaboration, fosters open communication, and enables the exchange of valuable insights, feedback, and ideas among team members.
On
Mesh
, you can comment on both, objectives and key results.
To comment on a goal (objective or key result):
Step 1: Select the Goals page from the Performance tab.
Step 2: Select the goal that you wish to comment on from the List View of the Goals module. The "Edit Panel" will open up.
Step 3: At the bottom of the panel, there is a space where you can add a comment or a praise for a team member. Select the text-box to add the same.
Step 4: You can now add your comment in the text box. You can also consider adding an emoji, GIF or an image to make things fun and foster more collaboration among team members.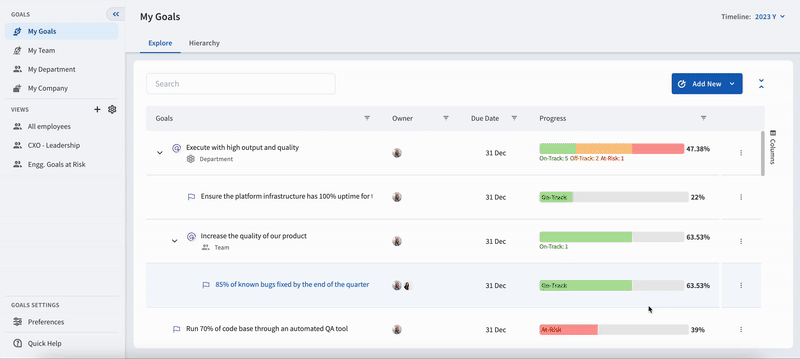 Turn ON the Praise toggle to praise your fellow org member for doing an awesome job. Do note that praises would be public and visible to all organisation members. Use "@" to tag a particular member and "#" to include a particular competency.
Comments play a vital role in capturing discussions, providing context, and enhancing transparency, ultimately leading to improved goal understanding, alignment, and overall performance.