A lot of companies that we onboard already have a defined list of Objectives and Key Results (OKRs) that they track and measure. And adding all those OKRs again on Mesh is not only tedious but isn't a professional way of doing things.
To ease this, admins have the power to upload their pre-defined OKRs directly on Mesh and start tracking them, with the click of a button. The way to do this is,
Step 1: Click to your profile (the very last tab on the navigation bar) and from the dropdown, click on Settings.
Step 2: On the left-sided panel, click on Goals and then on Objectives.
Step 3: On the right-side corner, you'll notice a blue button for goals and objectives, click on objectives
Step 4: This will open up a right-sided panel with a single option to "Choose File" and upload your data. (Do checkout the sample file once for the upload format by downloading the CSV)
Step 5: Once you've uploaded your file, the "Upload File" option at the bottom will be enabled, clicking which, your upload will be done.
Any error message of an unsuccessful upload will be shared on your Email.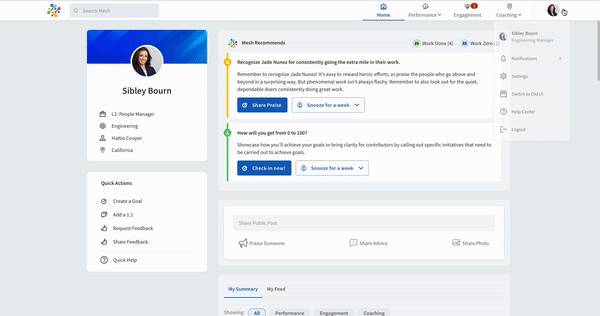 Few important pointers to note,
This feature is only accessible by the admins.
If the same name OKR, in the same time period and with the same owners are uploaded, then they are treated as duplicate. We allow duplicate records upload.
Users can upload as many as times they want. If the time-period is already created, new uploads are appended. Otherwise, the time-period will automatically be created.