Creating objectives empowers organisations to establish a clear direction, foster alignment, and drive purposeful action towards their desired outcomes.
With
Mesh
, you can plan, create and align your objectives in a jiffy.
To create an Objective,
Step 1: Select the Goals module from the Performance tab on the homepage.
Step 2: Click on the Add new button.
Step 3: In the dropdown that opens, click on New Objective.
The "Add objective" screen will open as a side panel.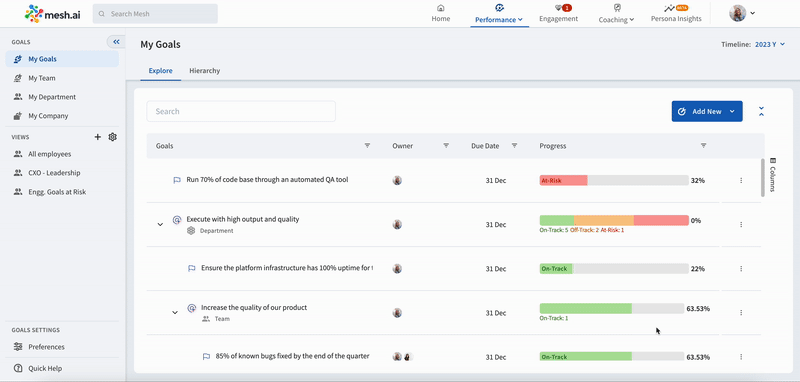 Step 4 :
Alignment
of objectives ensures cohesive pursuit of goals and vision. Align your objective with a parent objective or place the new objective at the parent level.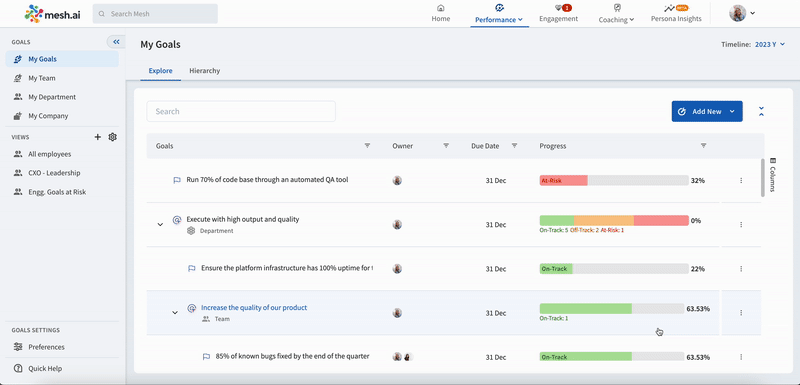 The
Timeline
of the objective is mentioned by default depending on the timeline selected while creation or the timeline of the parent objective. Changing the timeline would lead to re-alignment of the objective since it would have to be re-aligned to parent in the changed timeline.
You can also place it at strategic level (without aligning a parent objective) by choosing the Align at Strategic Level option.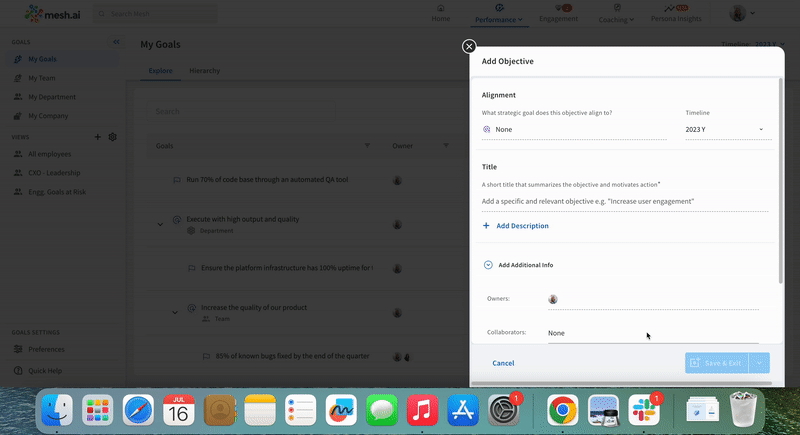 You can read more about setting and changing timelines
here.
Step 5: Provide a
Title
to the Objective to add clarity and focus to its purpose and facilitate effective communication and tracking.
Step 6: You can also provide a short
Description
of your Objective to provide more context to your team. Click on the
+ Add description
button to add a description.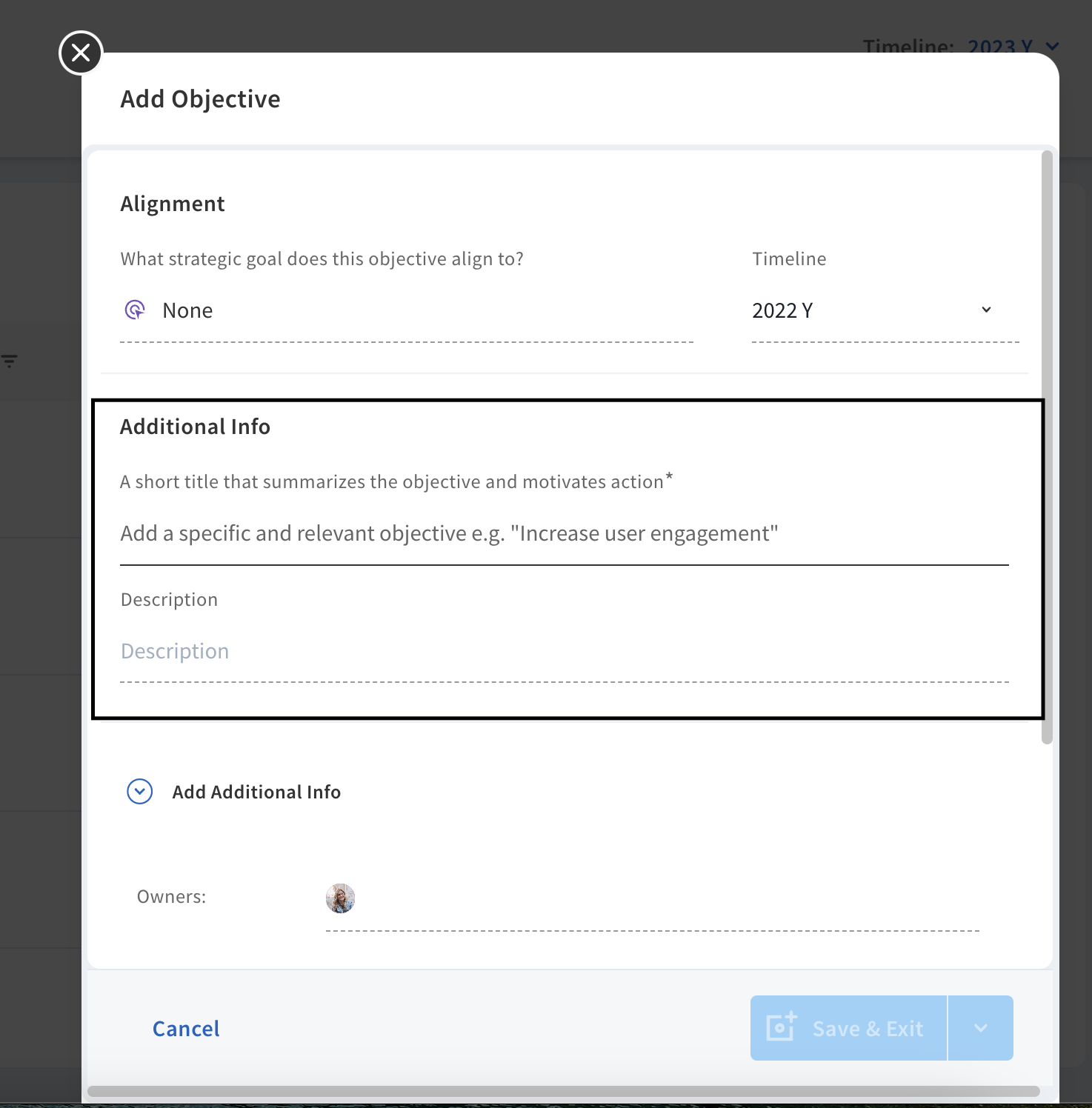 Step 7 : To add information such as a owners, visibility etc. to the objective, click on the Add additional info button.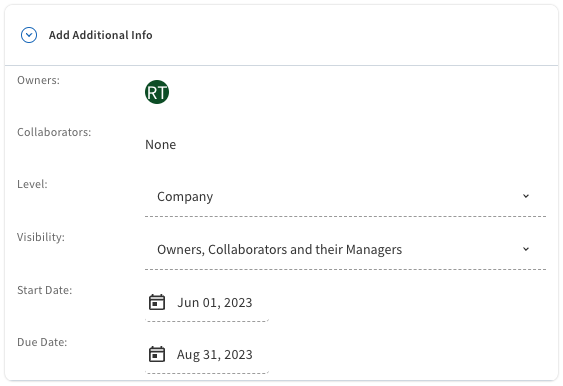 Assign the objective to its

Owners

and

Collaborators

(if any). By default, the person creating the objective is added as the owner.
Choose the

Level

at which the objective should be placed. You can select between Company, Department, Team and Individual. On selecting Department, you can also choose the specific department that owns the objective, depending on the data integrated from your HRMS. To read more about HRMS integration, click here.
Configure the visibility of the objective in the

Visibility

section. You can choose to make the objective available for Public viewership (throughout your company) or Private viewership (visible only to Owners, Collaborators and their Managers).
You can set a custom start date and end date for the objective within the timeline chosen using the

Start Date

and

End Date

fields.
Step 8: You are now ready to save your objective.
Click on the Save & Exit option to save your objective.
If you wish to create more goals related to your objective, you can also click on the Split Button to explore the following options:
Save & Add Child Key Result → Adds a child Key Result that aligns to this Objective
Save & Add Child Objective → Adds a child Objective that aligns to this Objective
Save & Add Objective → Adds another Objective that is independent of this Objective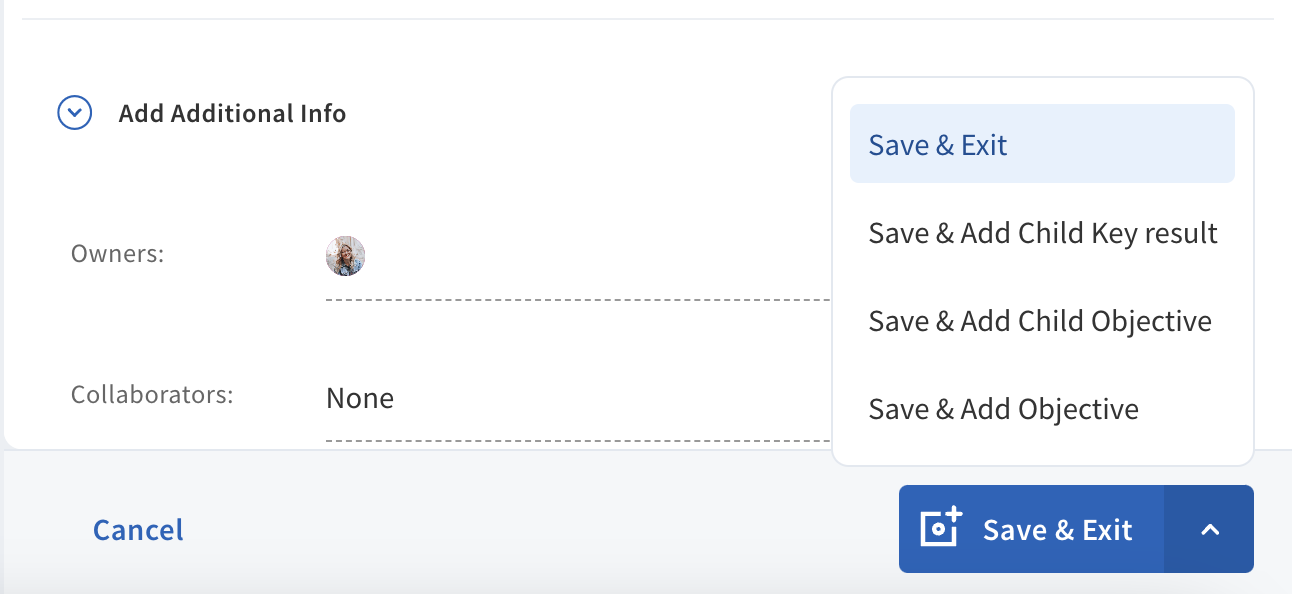 With Mesh.ai's intuitive interface and comprehensive features, propel your organisation towards success by creating and defining strategic objectives.