Insights on goals provide valuable data-driven information and analysis that enables informed decision-making, identifies trends, highlights areas of improvement for your team, and helps optimise goal performance.
To view Insights on Goals:
Step 1: Once on the Mesh homepage, click on Performance in the top navigation bar.
Step 2: From the dropdown, click on the Goals option. This will open up the "Goals homepage" as seen below.

Step 3: Determine whether you wish to view insights on your Company Goals or goals that belong to your team. Depending on the same, navigate to either the My Company section or the My Team section accordingly.
Note: The My Company section would be enabled for you only if your Goal Admin has enabled it for all members of your organisation. Similarly, you would be able to see the My Team section only if you are a Manager.
Let us consider that you wish to view insights on goals belonging to your company.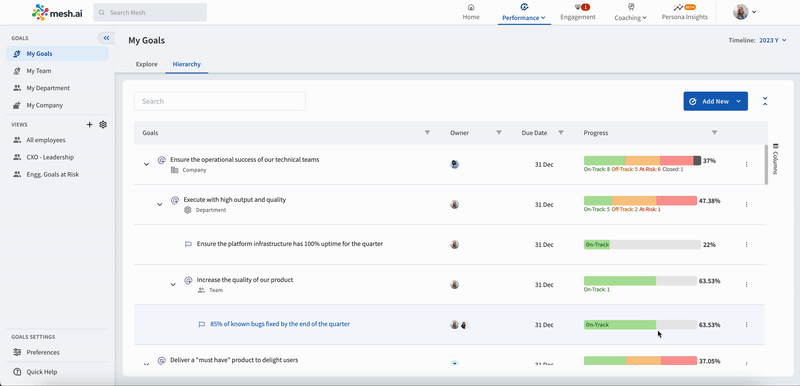 Step 4: By default, a table would follow where you would have the option to view insights Grouped by Objective or Grouped by Individual, with the default state being "Group by Individual".
Click on the links below to read more about the types of grouping available for Goal Insights.
Exploring Insights on Goals: Group by Individual
Exploring Insights on Goals: Group by Objective