Engagement includes surveys, pulses and experiences to understand how your people are currently feeling about your company.
To access this, click on "Engagement" on the top navigation bar. After clicking, you'll see the following page: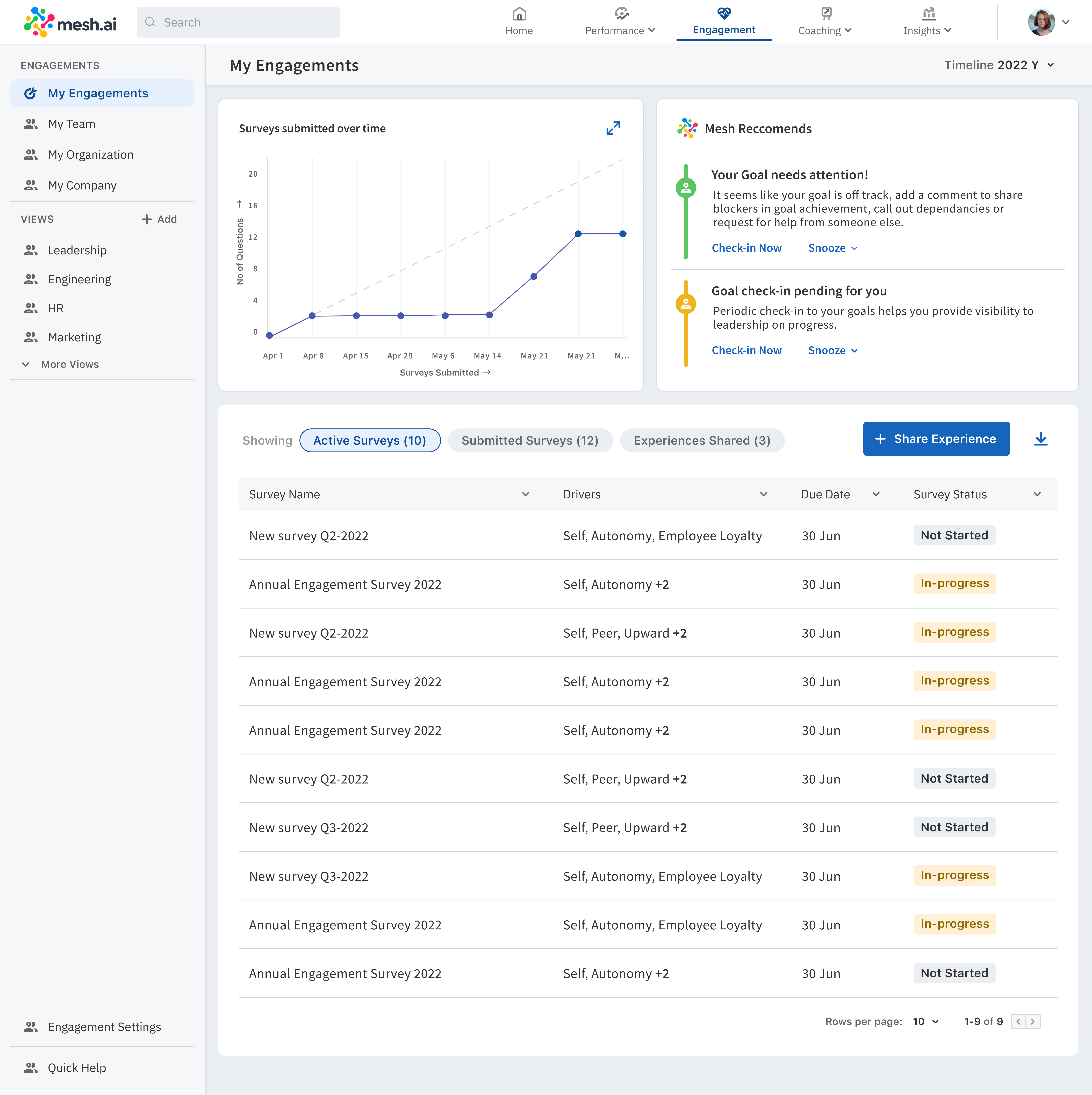 This is the homepage for the Engagement module. By default you land on the "My engagements" page. The surveys are grouped by your Active surveys and your Submitted surveys in a tabular format. Here details about the survey are shown as well i.e. what engagement drivers they're aligned with, their due date and your completion status.
To start any survey, simply hover over the survey, and click the "Start button". This will open your survey which you can complete. Once you complete the survey, and submit it, it will now start appearing in the "Submitted Surveys" section.
To view your submitted survey and your responses for the questions, simply click on "Submitted Surveys", find your survey, hover over it, and click the "View Details" button. This will open your survey responses that you can look over.
My Team for People Managers
People Managers can click on "My Team" on the left navigation pane where they have the opportunity to view "Insights" of the engagement surveys.
Here you can view your team's engagement drivers split by function, designation, location or none, as in no specific criteria to split the data. Here you'll be able to view the overall score the driver received.
To understand the score distribution, click on the blue arrow before the driver name and all the scores will be displayed based on detractor, passive and promoter employees.
On hovering over any particular engagement driver you will see a button called "View distribution by questions" which will allow you to view the scores of that driver based on how employees responded to the questions aligned to that driver. This data can again be split by function.
You can further analyze a question by hovering over it, and then clicking the 'View Details" button. This will open a side panel regarding that question, furbishing details such as the overall score, the distribution of responses and other quantitative details.
Similarly Admins and People Leaders can view such details about the engagement using "My Organization" and "My Company"
Views are present to visualise the responses against different functions in your organization. You have the option to create and save your custom view to visualize your data the way you prefer.