Agenda Points are pointers to discuss in 1:1 meeting which can be added , completed and deleted by either of the participants.
With Mesh 1:1s , you can
Choose agenda points to be added from our library or type in your own custom point

Also add notes to your agenda points, both

Shared (visible to both participants)
Private (visible only to you)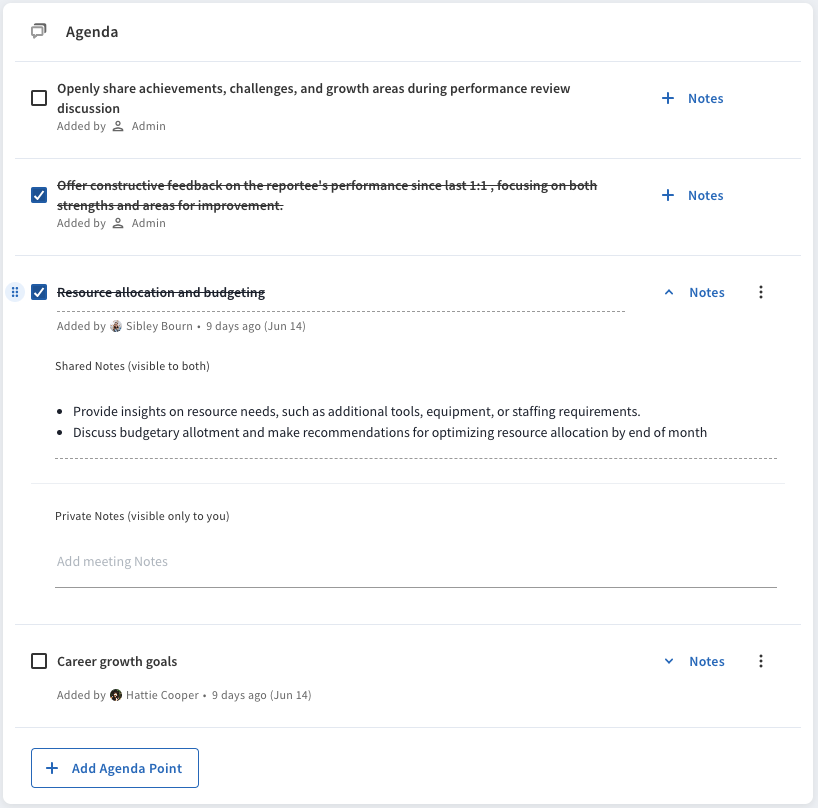 Admin Agenda Points
Mesh Admin has the ability to add agenda points for employees that they think should be discussed on certain lifecycle moments.
These appear in your 1:1s on the top and cannot be deleted or reordered.
You can identify them by the badge ' Added by Admin '.

To know more about these lifecycle events , go to Creating Admin Agenda Points.
Managing Agenda Points
Completing and Deleting an Agenda Point

Mark agenda point as complete by ticking the check box on the left.
To delete , click on kebab menu (፧) on the right and click on [Delete Agenda].



Reordering an Agenda Point

You can reorder points as per your preference by clicking and dragging on the 6 dots ( ) on left of the agenda point


You can only order regular agenda points and not admin added agenda points